Gregg Rosenthal picked the AFC winners and losers from the third week of the NFL preseason right here. The NFC picks are below.
Moving up
New Orleans Saints rookie class and defense: Three rookies started for the Saints' surprisingly frisky defense over the weekend: cornerback Marshon Lattimore, safety Marcus Williams and linebacker Alex Anzalone. Lattimore especially stood out against Houston, while rookie tackle Ryan Ramczyk and running back Alvin Kamara are also set for big roles.
It's only the preseason … but Pro Football Focus has the Saints ranked second among all defenses in August. They won't stay anywhere close to that ranking when the real games start, but this group needed an influx of youth and speed. The early signs are promising. Free-agent pickup A.J. Klein could be the key to the entire group, as the linebacker could finally give the team some stability at the second level.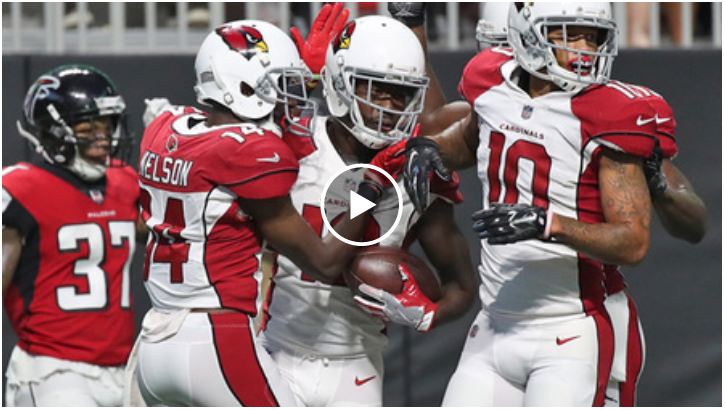 Cam Newton, QB, Carolina Panthers: Getting back on the field Thursday night, even if only for one drive, was a huge step in Newton's stop-and-start recovery from shoulder surgery. Just as important: Newton was back practicing fully on Sunday when the Panthers went back into their normal routine. It will be tough to evaluate the impact of Newton's surgery until he plays a full game, but everything is headed in the right direction.
John Brown, WR, Arizona Cardinals: Targeted twice on Saturday, Brown caught both passes for touchdowns totaling 49 yards. The plays showed off Brown's game-breaking speed, body control and concentration. Like Tyrann Mathieu for the team's defense, the Cardinals are simply different unit with Brown on the field. He's had so many physical setbacks over the last year and a half that I don't want to say more for fear of jinxing it.
Chris Carson, RB, Seattle Seahawks: Teammate Doug Baldwin called Carson the "most polished" rookie running back he's ever seen. I call him a superhero. A powerful upright runner with the body of a linebacker, Carson's decisive runs have been a revelation in the preseason. (Especially considering only four players were taken after him in the draft.) Coach Pete Carroll is not afraid to play anyone — just ask Thomas Rawls, who emerged as an undrafted rookie. Even if Rawls and third-down back C.J. Prosise get healthy in time for the season, Carson has earned a role on this offense.
The 12s in Seattle: Fans would enjoy the preseason if every team played as hard as Seattle does every August. Starters celebrate a backup making a big play as if it's a playoff game. The defense hits like it matters. Russell Wilson played into the second half on Friday night, with CenturyLink Field rocking louder than many stadiums do on regular-season Sundays. The crowd and Carroll deserve much of the credit, with an unhealthy love of football and competition carrying over into these games that don't count in the standings.
Second-year Detroit Lions: Defensive tackle A'Shawn Robinson, a 2016 second-round pick, has excelled all preseason, a welcome development for a defensive line missing Ezekiel Ansah (for now) and Kerry Hyder Jr. for the season. Anthony Zettel, a sixth-round pick from a year ago, is expected to start where Hyder lined up last year. One of the team's other sixth-round picks from last year, backup quarterback Jake Rudock, has played well enough to generate interest from opposing general managers. When left tackle Taylor Decker returns from injury (shoulder), general manager Bob Quinn should be getting a lot of value from his first draft class in Detroit. That's how you build up a roster.
Tampa Bay Buccaneers skill-position depth: The Buccaneers sat DeSean Jackson and Mike Evans for the team's third preseason game, but the star wideouts' absence only highlighted Jameis Winston's abundance of riches. Rookie receiver Chris Godwin can line up anywhere and come down with contested catches. Coach Dirk Koetter said Godwin played like a No. 1 wideout. Between Godwin, tight end Cameron Brate and slot receiver Adam Humphries, Winston's lesser-known supporting cast members all have star potential in any given week.
Going down
Brandon Marshall, WR, New York Giants: ESPN's Jon Gruden noted that Marshall's transition to the "timing and rhythm" Giants attack hasn't been easy on the veteran receiver — and that was before Marshall's shoulder injury knocked him out of practice all last week. Marshall returned to action on Monday, but Gruden, for one, thought he had yet to master the up-tempo attack that is so reliant on hand signals and Eli Manning changing plays.
With Odell Beckham Jr. also fighting his ankle injury, look for second-year wideout Sterling Shepard to play a bigger role than Marshall early in the season and perhaps beyond. Rookie tight end Evan Engram has also shown signs of skipping some of the usual rookie troubles that plague his position.
Mike Glennon, QB, Chicago Bears: Glennon's life got harder even after playing well Sunday. The Bears' presumptive Week 1 starter lost his top receiver Cameron Meredith to a torn ACL in a devastating development for the entire offense. Undrafted in 2015, Meredith was set to emerge as Chicago's unquestioned top pass catcher.
The injury leaves Glennon without a lot of firepower out wide. Kendall Wright, the team's slot receiver signed from Tennessee, is my pick to lead the team in receptions. Kevin White, Chicago's 2015 No. 7 overall pick, hasn't shown much progress in camp, and free-agent pickup Markus Wheaton has barely set foot on the field since being handed $6 million guaranteed. Victor Cruz appeared to be on the roster bubble before Meredith's injury, but might have a clearer path to a roster spot now.
While Glennon quieted critics in Chicago, rookie Mitchell Trubisky likely left the most lasting impression with the Bears faithful Sunday with his beautiful 45-yard touchdown toss to Tanner Gentry. Glennon will be fighting upstream as long as he holds this job.
Dallas Cowboys' new offensive line starters: It looks like journeyman Jonathan Cooper will win the left guard battle by default. Chaz Green, a third-round pick in 2015, was injured again over the weekend after being given a chance to start. The team's new right tackle, La'el Collins, looks the part in his role, but had three penalties against the Raiders.
Chris Johnson, RB, Arizona Cardinals: Already believed to be at risk of losing his roster spot, Johnson fumbled twice and dropped a pass in the first quarter Saturday against Atlanta. He's a name to watch next week during roster cutdowns.
The third week of the preseason: Coaches used to treat the third week of the preseason as a "dress rehearsal" for the real thing, game-planning and playing starters into the third quarter. As my "Around the NFL Podcast" comrade Marc Sessler pointed out this weekend, that practice has gone the way of the Bud Bowl. A few teams, such as Detroit, Tennessee and Seattle, played starters into the second half of games, but more teams were quick to pull their starters — if they even played them at all.
Aaron Rodgers had two unproductive drives for Green Bay. J.J. Watt and Jadeveon Clowney played one drive for the Texans. The Los Angeles Rams sat the majority of their starting defense. Ben Roethlisberger played two drives, his most extensive work of the preseason. (And it might have been one drive if the first one hadn't ended quickly in a turnover.)
Coaches should use their preseason snaps however they see fit, and they are doing so with increasing caution. NFL Commissioner Roger Goodell recently voiced his support to reduce the preseason to three games. After this latest slate of games, it's worth wondering if we are set to watch the final Preseason Week 4 in NFL history.